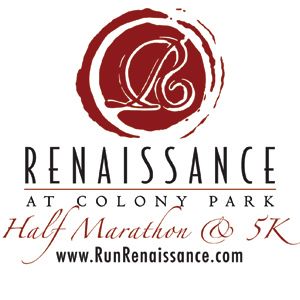 Finally! I have found time to post about my second half marathon. First off - it was blazing HOT!!!! When we left my daughter's house at 5:20 AM it was already 80 degrees! The race started at 6 AM. My daughter and my friend Linda ran the 5K and my son ran the half with me. Here we are before the race stated.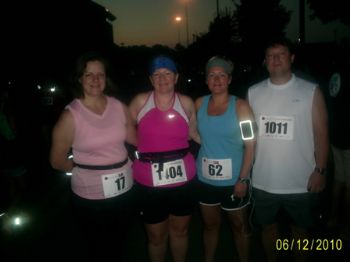 Here is me and my son at the start of the race. I look pretty happy and I was! I was so excited to have my son run beside me. He was such as inspiration!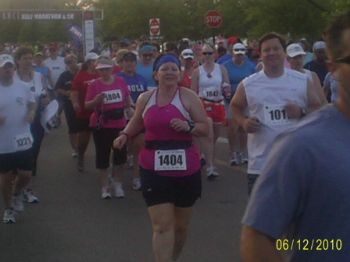 The route was beautiful. We had a little bit of everything. There was nice neighborhoods with pretty houses, there was pastures with horses, there were several small lakes or ponds. There was lots of shade and lots of sun. A few rolling hills and some flat land. It was a really beautiful run and I would love to do it again. At one point we tired to run through someone's yard sprinkler but just as we got there it turned the other way and I did not want to run on their lawn so I missed that cool down. Someone said the humidity was around 97%. Wow! I did fine until about mile 11 and then I got real tired and started hurting. I don't believe I could have gone any more than 13 so the thought of a whole marathon is out of the question. At about mile 11 we came upon some music and that gave me a little boost of energy. My son and I took Gu at mile 3, 5, 7 and 11. Not sure the Gu helped much at mile 11 because I was spent!
I have been diagnosed with exercise induced asthma and my son was concerned about me and he kept asking if I was okay. But I was fine. I told him that he did not need to worry unless he saw me on the ground. Other than that I was okay. At mile 12.5 I had to use my inhaler. Was feeling a little winded. I was really emotional too because of it being the 9th anniversary of my dad's death. In my mind I was thinking of him and how proud he would be of me. If he were here he would be at that finish waiting on me no matter how hot it was.
I thought about taking pictures but I did not want to run with my camera and I wanted to PR so I did not stop to take any pictures with my cell phone. At the water stops the water was almost hot! I wasn't too happy with that but there was no way it could anything other than hot on this day. At least we had the water. At about mile 7 water stop they had ICE WATER! Yippee!!! It was wonderful! It felt so good going down that I felt like I would actually make it to the finish line. I poured the leftover ice down my sports bra but it melted quick!
When we crossed the finish I was in agony. My family yelled at me and I tried to smile for them. Actually in this picture of me and my son I look pretty happy and I was but I was hurting too. This is right before the finish line. I think I was smiling because I was so relieved to be almost finished.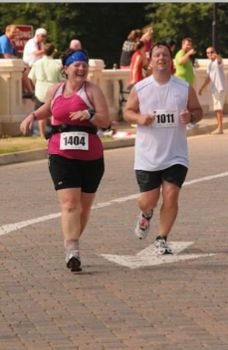 Here is what I really felt like......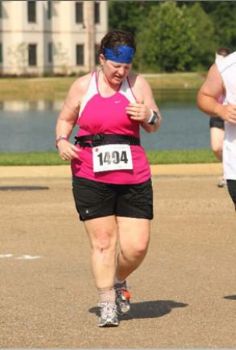 But it was a great race and I would do again. I hear they are thinking of moving it to April next year. June was just too hot for everyone. Several people could not finish. I saw one lady being carried in on a golf cart. Her head was down and I know she was probably heartbroken. I would have been.
My ankle did fine. I had it wrapped and it only hurt a few times.
When I crossed the finish line my son and I went over to the big water fountain at the front of the mall. That helped to cool us off. My dear husband keep filling up my water bottle and pouring it over my head and neck. I felt my throat closing up and I thought, "oh no - not now!" But I took a few deep breaths and tried to relax. I used my inhaler one more time. After I cooled down I was okay. I think it was the heat and my emotions in combination but it didn't last long.
My daughter running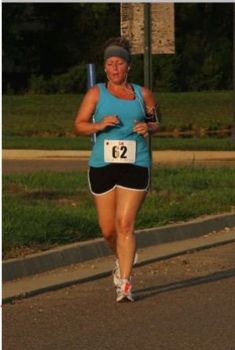 My daughter at finish line on the left
Linda at finish line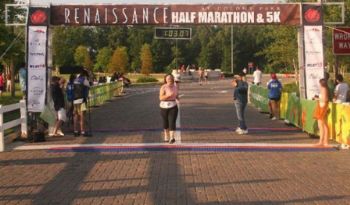 One more of me and my son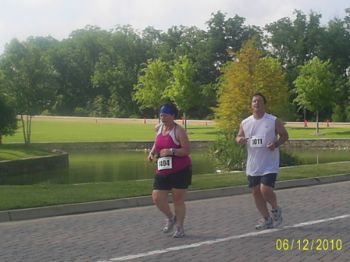 Oh and I almost forgot: My official time was 3:25:08 almost 15 MINUTES FASTER than my first half. How cool is that? And what made it so special was my son running beside me and my daughter being there as well. I am so proud of them and of myself! I never dreamed this would become a "family affair" but I am so glad it has! My two children are so wonderful and I owe them so much for all the years that had to put up with my drinking and crazy behavior. Praise the Lord I am not the same person today! God is good. Life is good.
MAKE it a great day friends.